Climate
The climate in the Valencia region and province is temperate, with a dry summer, offering a number of advantages for produce-growing compared with other areas and climates:
The overall rainfall is lower, which means more days of sunlight to benefit the produce we grow.
The mildness of the climate, thanks to the atmospheric humidity, is much greater in areas under the influence of the Mediterranean, avoiding the combination of very high temperatures and air saturated with humidity.
The Mediterranean, at latitude 5, is at virtually zero risk of tropical storms or tornados, which devastate harvests and crops all over the world.
The Iberian Peninsula is divided into two major climatic areas: the Western Coastal Oceanic or Maritime to the north and the Mediterranean, which affects the southern two thirds. The Valencia region's geographical position in the peninsula, its latitude, closeness to the sea and its relief create a number of factors that should also be taken into consideration: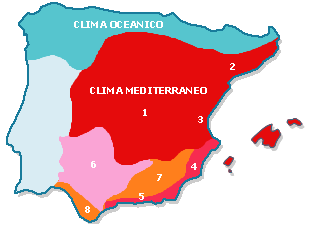 3.- VALENCIA-BALEARIC MEDITERRANEAN - Rainfall concentrated in autumn.
4.- DRY MEDITERRANEAN - Few days of rainfall per year.