Your Order
The processes that your order goes through begin with picking in the groves, followed by classification and cleaning of the fruit, depending on whether the oranges are for juice or eating, and finally packing and shipping to your door.
You can place order via our website, by going to Products on the sidebar menu, or by e-mail.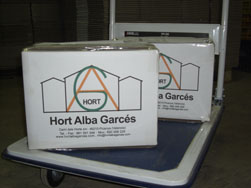 You will receive your order within 2–4 days, "from the tree to your table in 48–96 hours". If you wish to make an order from abroad, please contact us.
Each days orders are closed at 1:00 p.m. Any orders placed later in the day will be processed the following morning.
If you are not going to be at home when your oranges are delivered, please specify an alternative address when placing your order (workplace or a friend or relative's home). Nevertheless, if you are not at home when the delivery driver arrives, the dealer will leave a note where you can get in touch with him and then divide your order.. If this does not happen, please e-mail us so that we can trace the box for you.
Before signing the delivery advice note, please check that everything is in order. If you detect any problem, please tell the delivery driver. The order will be classed as delivered but not in optimal shipping condition. This means that you can keep the produce and we will send you a replacement with no additional charge.
All our prices include VAT and shipping costs. SHOP
What is the deadline to take advantage of the repayment option?
It will be 5 days from receipt of the merchandise.
Who pays shipping costs on returns (customer or merchant)?
No return of merchandise of perishable goods is accepted, if the merchandise is damaged, replacement product will be sent.
What is the next step to initiate a refund?
Send us an email with photos of the state of the product to help us improve our processes, remember that being perishable products can not return the merchandise but we can compensate by replenishing the merchandise.
What is the defective / broken product policy?
Free replacement of the product if it is damaged, send us your photos with the damaged products.
What is the policy of products that are not broken, but the customer wants to return because they changed their mind about the purchase?
We do not accept returns of any products because they are perishable.