Who We Are
We started to grow oranges in 1980. Following the family tradition, we wanted to make the business more profitable by seeking new varieties, offering quality, new structures, localised irrigation and other initiatives, investing savings, time and other profits to extend the operation and optimise the product's profitability, including mechanising labour as much as possible to keep costs down.
Over the next 20 years, the profit margin was small and instable, but even so we managed to maintain and extend the family's farming heritage. The market system was a simple one – a farmer produced, a dealer bought in quantities depending on the crop yield and the quality, and that was what determined whether a good price could be obtained or not.
In 2000, orange-buyers came up with a system to dominate the market and offer the prices whatever price they saw fit to pay. This was the "marketing" stage.
Marketing consists of delivering the fruit to the dealer, who stores it, boxes it, sells it and then gets paid for it. The farmer is then paid the sale price minus costs and the dealer's own profit margin, which on occasion would mean that farmers were paid less than nothing. As a result, farmers began to deal directly with retailers, thereby eliminating the middle-men from the process.
Following the crisis in 2004-2005, our family began to seek alternatives, without sacrificing our previous citrus-production methods, which were based on respect for the environment and integrated farming, controlled by agricultural specialists in accordance with EUREP standards, and including attending training courses in citrus-growing organised by the Valencia Regional Government.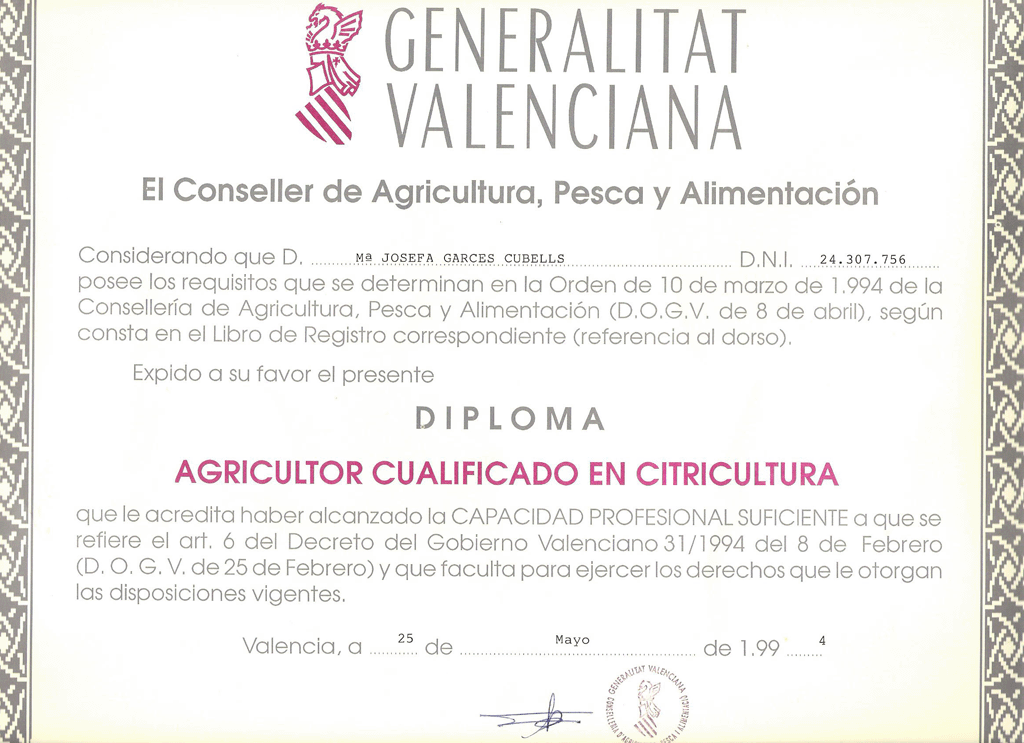 The fifth generation of the family, who while young and still studying, had the impetus to realise that we would have to create our own system that depended on nobody else to sell our produce — in other words, we were going to have to market our oranges ourselves.
Since this experience began, we have invested in new tree types with a view to obtaining a product that matches more closely the new type of customer, while operating in the market offering every guarantee and service. We trust that this new challenge will mean that the current generation, and the sixth generation, will be willing and able to keep up a tradition that goes back over 200 years.