Architecture
Access to the grove is a long a track, with three entrances to the estate, living onto an esplanade in front of the house's main facade.
There is a small garden with large deciduous trees.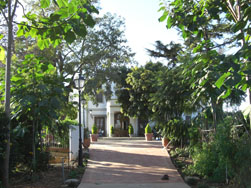 The main frontage of the house has a triangular gable finish and symmetrical openings setting off the front doorway — a typical design in buildings of this type. At the side are large picture windows, offering fine views of the estate from the interior. The window frames are flush, so as not to distract from the classically decorated doorway, composed of four stylised base pillars and a capital, with leafy overhangs. This is the main entrance to the house.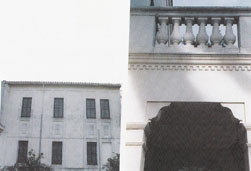 The original main body of the house has timber flooring, with two adjoining Squire spaces over the second culvert with a four-strip tiled roof. The other two sides (left and rear) are closed off with a masonry wall to create an inner courtyard. The window spaces are arranged symmetrically and decorated with festoons in relief. At the rear of the building is the motor and pool for irrigation water, with a capacity of 525 cubic metres (about half a million litres), for flood irrigation, together with a barn where tools and tree-care machinery are kept.