Pale Beer Gelèe 220g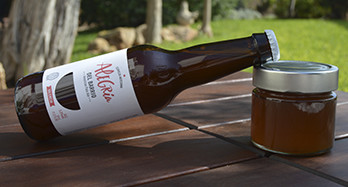 At the moment, we are sorry to inform you that we don't have this product in stock.
This pale ale jelly is made with local beer, "Alegría", using a pale ale of bitterness soft and fruity aroma, giving a considerable, impressive and smooth beer taste to this jelly.

This jelly is perfect for use with soft meats, foie gras and semi-hard cheeses, ideal for an afternoon with friends and offer them something to mitigate the hunger.
Give your opinion