Toasted Yolk Turrón 300g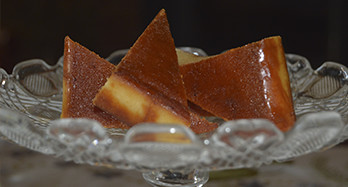 At the moment, we are sorry to inform you that we don't have this product in stock.
This turrón is a mixture of ground almonds with egg yolk and toasted sugar by the edges, achieving a unique and special flavor. Toasted Yolk Turrón is soft, yellow to orange and with a very soft texture, you will not regret having tasted it.

Toasted Yolk Turrón is designed for the most exquisite palates, offering our customers a unique pleasure. The raw materials that have been used to make the Turrón are of the highest quality providing healthy nutrients.
Warning
: include(../conexion/conexion.php): failed to open stream: No such file or directory in
/var/www/naranjasalbagarces/ingles/code/ratings/ratings.php
on line
2
Warning
: include(): Failed opening '../conexion/conexion.php' for inclusion (include_path='.:/usr/share/php') in
/var/www/naranjasalbagarces/ingles/code/ratings/ratings.php
on line
2
Warning
: mysql_num_rows() expects parameter 1 to be resource, boolean given in
/var/www/naranjasalbagarces/ingles/code/ratings/ratings.php
on line
8
Warning
: include(../conexion/cerrar_conexion.php): failed to open stream: No such file or directory in
/var/www/naranjasalbagarces/ingles/code/ratings/ratings.php
on line
24
Warning
: include(): Failed opening '../conexion/cerrar_conexion.php' for inclusion (include_path='.:/usr/share/php') in
/var/www/naranjasalbagarces/ingles/code/ratings/ratings.php
on line
24
Give your opinion
Warning
: include(../conexion/conexion.php): failed to open stream: No such file or directory in
/var/www/naranjasalbagarces/ingles/code/comment/commentbox.php
on line
2
Warning
: include(): Failed opening '../conexion/conexion.php' for inclusion (include_path='.:/usr/share/php') in
/var/www/naranjasalbagarces/ingles/code/comment/commentbox.php
on line
2
Fatal error
: Class 'NumberFormatter' not found in
/var/www/naranjasalbagarces/ingles/code/comment/commentbox.php
on line
7