Turrón a Stone 300g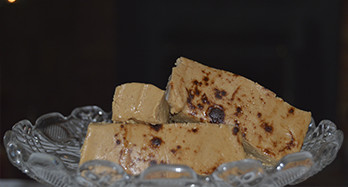 At the moment, we are sorry to inform you that we don't have this product in stock.
The turrón a Stone is similar to the Jijona Turrón, the difference is that in this turrón the almonds are toasted and in the "soft" not.

In short, the Turrón a Stone is made with crushed and toasted almonds, sugar, cinnamon and the lemon bark. All products are of the region of Alicante of first quality. Its texture is very soft and light brown.

To highlight the wrapper that goes in a wooden box.
Warning
: include(../conexion/conexion.php): failed to open stream: No such file or directory in
/var/www/naranjasalbagarces/ingles/code/ratings/ratings.php
on line
2
Warning
: include(): Failed opening '../conexion/conexion.php' for inclusion (include_path='.:/usr/share/php') in
/var/www/naranjasalbagarces/ingles/code/ratings/ratings.php
on line
2
Warning
: mysql_num_rows() expects parameter 1 to be resource, boolean given in
/var/www/naranjasalbagarces/ingles/code/ratings/ratings.php
on line
8
Warning
: include(../conexion/cerrar_conexion.php): failed to open stream: No such file or directory in
/var/www/naranjasalbagarces/ingles/code/ratings/ratings.php
on line
24
Warning
: include(): Failed opening '../conexion/cerrar_conexion.php' for inclusion (include_path='.:/usr/share/php') in
/var/www/naranjasalbagarces/ingles/code/ratings/ratings.php
on line
24
Give your opinion
Warning
: include(../conexion/conexion.php): failed to open stream: No such file or directory in
/var/www/naranjasalbagarces/ingles/code/comment/commentbox.php
on line
2
Warning
: include(): Failed opening '../conexion/conexion.php' for inclusion (include_path='.:/usr/share/php') in
/var/www/naranjasalbagarces/ingles/code/comment/commentbox.php
on line
2
Fatal error
: Class 'NumberFormatter' not found in
/var/www/naranjasalbagarces/ingles/code/comment/commentbox.php
on line
7