Pear Cider Gelèe 220g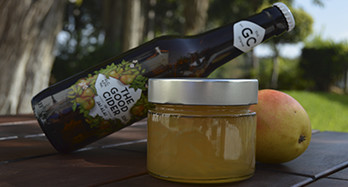 At the moment, we are sorry to inform you that we don't have this product in stock.
Sweet jelly with a definite flavor of pear and very refreshing and interesting texture provided by small strips of pear. Color very clear almost transparent and very smooth.

Perfect for contrast with cloying flavors, or use it in desserts.

Made with pear cider "Good Cider" with small strips of pear, of local farmers.
Give your opinion