Turrón with sesame 300g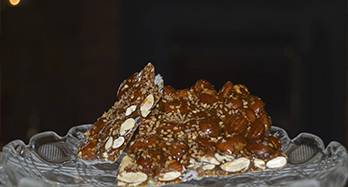 At the moment, we are sorry to inform you that we don't have this product in stock.
The turrón of Guirlache with Sesame is not very well known when you are not from Alicante, it is a turrón made with whole toasted almonds, sugar, honey and sesame. The difficulty of this turrón is to get the perfect union of each of the ingredients.

Regarding this turrón we can say that it is dark brown and it is a hard nougat. It is also easy to identify the ingredients since they are not crushed, it may seem at first glance that it is a very simple turrón, but the taste that Coloma Garcia has achieved with its master artisans is spectacular.


Warning
: include(../conexion/conexion.php): failed to open stream: No such file or directory in
/var/www/naranjasalbagarces/ingles/code/ratings/ratings.php
on line
2
Warning
: include(): Failed opening '../conexion/conexion.php' for inclusion (include_path='.:/usr/share/php') in
/var/www/naranjasalbagarces/ingles/code/ratings/ratings.php
on line
2
Warning
: mysql_num_rows() expects parameter 1 to be resource, boolean given in
/var/www/naranjasalbagarces/ingles/code/ratings/ratings.php
on line
8
Warning
: include(../conexion/cerrar_conexion.php): failed to open stream: No such file or directory in
/var/www/naranjasalbagarces/ingles/code/ratings/ratings.php
on line
24
Warning
: include(): Failed opening '../conexion/cerrar_conexion.php' for inclusion (include_path='.:/usr/share/php') in
/var/www/naranjasalbagarces/ingles/code/ratings/ratings.php
on line
24
Give your opinion
Warning
: include(../conexion/conexion.php): failed to open stream: No such file or directory in
/var/www/naranjasalbagarces/ingles/code/comment/commentbox.php
on line
2
Warning
: include(): Failed opening '../conexion/conexion.php' for inclusion (include_path='.:/usr/share/php') in
/var/www/naranjasalbagarces/ingles/code/comment/commentbox.php
on line
2
Fatal error
: Class 'NumberFormatter' not found in
/var/www/naranjasalbagarces/ingles/code/comment/commentbox.php
on line
7