Mixed Lane Late y Clementina 18 Kg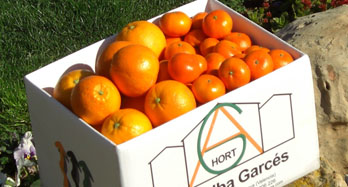 At the moment, we are sorry to inform you that we don't have this product in stock.
Mixed box of 18 real kilos Navel Lane Late and late Clementine oranges, two varieties of excellent quality and taste better, boards are the best gift that you can do to you and yours, they are sweet as candies, ideal so that their children eat as treats.
Ripened on the tree and selected by hand with all our love, from the sunny Valencian lands directly to you.
Do you know that? Oranges and orange juice like vegetables and legumes are foods rich in folic acid, which helps prevent birth defects related to the brain and spinal cord, being recommended for use in women of childbearing age.
Our mixed box of 18 kilos fruit, 12 kilos of oranges and 6 kilos of tangerines, it reach you in perfect condition, because our oranges and tangerines are collected, cleaned and packaged one by one, ripened on the tree and without any chemical process. If oranges and tangerines not arrive at conditions, by the problem that is, just call us and we will fix it is as soon as possible.
Give your opinion