Jijona Turrón 300g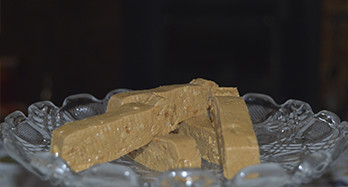 At the moment, we are sorry to inform you that we don't have this product in stock.
More commonly called "soft" turrón, it is the most representative of all Coloma Garcia products, made with 100% natural products and vacuum packed, so you do not lose any property in the transportation to your home.

The artisans of Xixona have a lot of experience in making turrón with the native products of Alicante, from the Xixona turrón we can highlight, the ground almond, the light brown color, the soft that is at the time of eating and undoubtedly the special flavor that leaves this turrón in the mouth.
Warning
: include(../conexion/conexion.php): failed to open stream: No such file or directory in
/var/www/naranjasalbagarces/ingles/code/ratings/ratings.php
on line
2
Warning
: include(): Failed opening '../conexion/conexion.php' for inclusion (include_path='.:/usr/share/php') in
/var/www/naranjasalbagarces/ingles/code/ratings/ratings.php
on line
2
Warning
: mysql_num_rows() expects parameter 1 to be resource, boolean given in
/var/www/naranjasalbagarces/ingles/code/ratings/ratings.php
on line
8
Warning
: include(../conexion/cerrar_conexion.php): failed to open stream: No such file or directory in
/var/www/naranjasalbagarces/ingles/code/ratings/ratings.php
on line
24
Warning
: include(): Failed opening '../conexion/cerrar_conexion.php' for inclusion (include_path='.:/usr/share/php') in
/var/www/naranjasalbagarces/ingles/code/ratings/ratings.php
on line
24
Give your opinion
Warning
: include(../conexion/conexion.php): failed to open stream: No such file or directory in
/var/www/naranjasalbagarces/ingles/code/comment/commentbox.php
on line
2
Warning
: include(): Failed opening '../conexion/conexion.php' for inclusion (include_path='.:/usr/share/php') in
/var/www/naranjasalbagarces/ingles/code/comment/commentbox.php
on line
2
Fatal error
: Class 'NumberFormatter' not found in
/var/www/naranjasalbagarces/ingles/code/comment/commentbox.php
on line
7