Chestnut Honey 1 Kg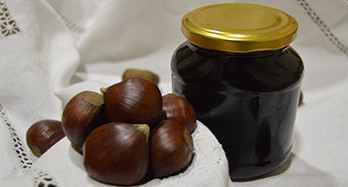 At the moment, we are sorry to inform you that we don't have this product in stock.
Honey of chestnut: dark red, almost black, is one of the densest honeys. Considered the honey with the greatest antipatogeno power, its taste is sweet, with salty and bitter notes and a clear and marked component to dry wood. Strong Woody aroma. Chestnut honey comes from bees that liban exudations of tree and chestnut flower. Its main benefits are:
• High iron content.Perfect to fight anemia.
• Recommended for asthmatics.
• Antioxidant and very energetic.
• Has more vitamin C than the rest of honeys.
• Facilitates the circulation: highlights its stimulating effect on the blood circulation.
• Stimulates the creation of new tissue and acts as a natural anti-inflammatory.

To keep this food's natural qualities for a long time it is necessary that your container is properly locked and keep in a dry place protected from direct sunlight. Pure honey solidifies (crystallizes) when the temperature drops below 20 ° C during time. To retrieve their liquid texture is recommended to put jar to the bath maria and stir. This feature confirms the purity of the honey. Honey quality, without pretreating. Bottled directly from the hive with health registration. Honey natural or raw, without pasteurization or microfiltration, processes that transform the honey into soft and liquid but varies its composition and properties.

Tip: Chestnut honey is characterized by its high content of iron and its great energy input. A couple of tablespoons at breakfast will help us to fight anemia and start your day with energy. It is recommended for athletes and active people.
Give your opinion