Alicante Turrón 300g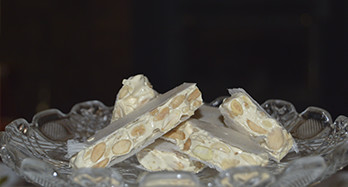 At the moment, we are sorry to inform you that we don't have this product in stock.
More commonly called "hard" turrón, this nougat was created in Alicante, so the name it has. In this turrón we can identify the whole almonds and what is the turrón of a white color.

Although its name is "hard" turrón, at the time of eating it there is no problem since the mass with the almonds have a balance of perfect hardness.

It is recommended to split the "hard" turrón by hand and serve on a plate with the different pieces.
Warning
: include(../conexion/conexion.php): failed to open stream: No such file or directory in
/var/www/naranjasalbagarces/ingles/code/ratings/ratings.php
on line
2
Warning
: include(): Failed opening '../conexion/conexion.php' for inclusion (include_path='.:/usr/share/php') in
/var/www/naranjasalbagarces/ingles/code/ratings/ratings.php
on line
2
Warning
: mysql_num_rows() expects parameter 1 to be resource, boolean given in
/var/www/naranjasalbagarces/ingles/code/ratings/ratings.php
on line
8
Warning
: include(../conexion/cerrar_conexion.php): failed to open stream: No such file or directory in
/var/www/naranjasalbagarces/ingles/code/ratings/ratings.php
on line
24
Warning
: include(): Failed opening '../conexion/cerrar_conexion.php' for inclusion (include_path='.:/usr/share/php') in
/var/www/naranjasalbagarces/ingles/code/ratings/ratings.php
on line
24
Give your opinion
Warning
: include(../conexion/conexion.php): failed to open stream: No such file or directory in
/var/www/naranjasalbagarces/ingles/code/comment/commentbox.php
on line
2
Warning
: include(): Failed opening '../conexion/conexion.php' for inclusion (include_path='.:/usr/share/php') in
/var/www/naranjasalbagarces/ingles/code/comment/commentbox.php
on line
2
Fatal error
: Class 'NumberFormatter' not found in
/var/www/naranjasalbagarces/ingles/code/comment/commentbox.php
on line
7